With my laptop succumbing to heat death this year, I buckled down and completed my long-harbored goal to build my own PC.
Speccing Out
As with any PC build, I started by putting together a parts list. I set my budget at the $600 range, give or take. These days I don't have much time for gaming, so I wasn't intending to play any AAA games on here (at least, not in the near future). The extent of my gaming will most likely be older titles and indies. I do however dabble in audio and video work and thus decided to go for an AMD processor as I use applications that utilize the multiple cores.
This was my initial parts list:
PCPartPicker part list / Price breakdown by merchant

CPU: AMD FX-6350 3.9GHz 6-Core Processor ($119.99 @ Amazon)
Motherboard: ASRock 970M PRO3 Micro ATX AM3+/AM3 Motherboard ($63.89 @ OutletPC)
Memory: Team Elite Plus 8GB (2 x 4GB) DDR3-1600 Memory ($35.99 @ Newegg)
Storage: Western Digital Caviar Blue 1TB 3.5″ 7200RPM Internal Hard Drive ($50.89 @ OutletPC)
Video Card: EVGA GeForce GTX 750 Ti 2GB Superclocked Video Card ($129.99 @ NCIX US)
Case: Cooler Master N200 MicroATX Mid Tower Case ($43.99 @ NCIX US)
Power Supply: EVGA 500W 80+ Bronze Certified ATX Power Supply ($44.99 @ NCIX US)
Wireless Network Adapter: Belkin F9L1001 802.11b/g/n USB 2.0 Wi-Fi Adapter ($8.99 @ Amazon)
Monitor: LG 23MP57HQ-P 60Hz 23.0″ Monitor ($134.99 @ SuperBiiz)
Total: $633.71
Prices include shipping, taxes, and discounts when available
Generated by PCPartPicker 2015-09-11 20:41 EDT-0400
I intended to purchase the parts over the following few weeks, jumping on any sales or deals that I came across (mainly on /r/buildapcsales). I ended up straying pretty far from my original plans and budget; here's the final parts list, with the exact price I spent on everything:
Switching from an FX-6350 to an 8320 was the most significant internal change. I could go into benchmark reasons, but what it really came down to was realizing that there was only a $20 difference between the two. I haven't stress-tested the machine at all yet, nor do I think I'll notice a major difference between the two for my uses, but I felt if there was anywhere worth stretching the budget, it was here.
I'm not intending on overclocking any time soon, but I've read that stock AMD coolers are noisy. I found the CM Hyper 212 Plus on sale for only $15 and jumped on it; as I understand it, it's about identical to the 212 EVO. I've only ever installed Intel CPU coolers so I anticipated a learning curve to this step of the process, but I wasn't prepared for an aftermarket cooler. It was probably the biggest hangup during the build process. The included instructions were rather vague (images only, no textual instructions), and it was difficult to find online resources that covered AMD processors and the Hyper 212 Plus specifically. Eventually I realized that I just wasn't applying enough pressure when screwing the cooler down (I was being precious with all my components). I also made a pretty big mess of my hands with the thermal paste somehow. The first time around, I applied way too much. The day after I 'finished' the build I reinstalled the CPU cooler (and the motherboard, which I'll get to) and was more controlled in my use of thermal paste.
Halfway through the parts buying process, I switched from a Micro ATX build to an ATX. I had reservations about working in a smaller case for my first build initially, and I exacerbated those concerns when I purchased the Hyper 212 Plus. I wanted to be sure I had room to expand in the future. Thus far I'm happy with the ASUS board and I prefer the blue/black aesthetic to the pure black of the ASRock board.
I'm absolutely terrible at installing IO plates and, because I didn't punch it in all the way, I originally installed the motherboard crooked. The next day I reinstalled it proper, but that was another hangup during the build process.
RAM is RAM, but I found the HyperX Fury sticks cheap on /r/hardwareswap. I liked the color and heatsinks, though the blue doesn't exactly match the motherboard accents. It was mostly an aesthetic switch.
Originally I planned to go with a 750Ti, which is basically the quintessential budget card. I saw the 7950 on sale for less than I was intending to buy the 750Ti for and jumped on it. It was the first part I bought! I actually really dig the appearance of the cooler, too.
When I switched to an ATX motherboard, naturally I had to choose a new case. If it's not already clear, I was perhaps slightly more concerned with the aesthetics of the build than the functionality. I looked at a lot of cases before settling on the Source 210 Elite. There's a lot I prefer in terms of appearance, but they were all pricey. The Source 210 Elite was the nicest white case in my price range; I like the minimal appearance of it (I can't stand gaudy cases). Originally I didn't like the black accents, but I warmed up to them when I started to look at them as reminiscent of Stormtrooper helmets (have I mentioned I really dig the new ones for The Force Awakens?).
This monitor is a thing of beauty. I have a 16:9 Acer monitor from a few years back, but I got used to having a dual screen setup with my laptop and wanted to keep that going. Maybe it'll change when I start gaming, but I haven't felt compelled to hook up the Acer at all next to the new Dell. I'm in love with this monitor.
Sound
I bought a 2.1 speaker system (Creative T3150w) during last year's Black Friday sale. For $40, they do the trick. I like that they offer both Bluetooth and a line-in, though the line-in cable is weirdly attached to the sub and not the remote that sits on my desk. The bass is a little overpowered too but all-in-all I'm happy with them.
I have a Blue Snowball USB Condenser mic with a pop filter and desk arm. They're not pictured, but I also use Monoprice's basic DJ over-ear style headphones when podcasting or listening to music late at night. Great sound for under $20.
Input
My keyboard is an HP Wireless Elite v2. I've had this keyboard for years. It's basic, but has a nice minimal design and is comfortable to type on. Down the road I'll probably replace it with a full-size Bluetooth keyboard once I find one I like to reduce the number of dongles I have, but I'm happy with it.
My mouse is a Microsoft Sculpt Comfort Mouse. Again, basic, but I love the design, and the Windows button on the side is pretty handy.
This is weird, right?
Part of my struggle in selecting a case was that, apparently, a lot of cases are abandoning the 5.25″ drive bays. I understand that many people forgo an ODD these days, but I like making mix CDs because I still think it's 2005 so I need one.
Originally I snagged an ODD out of an old computer at my job, but found a few weeks later that it doesn't actually burn discs. I bought a basic ASUS one to replace it.
Because that's all anyone really cares about, right?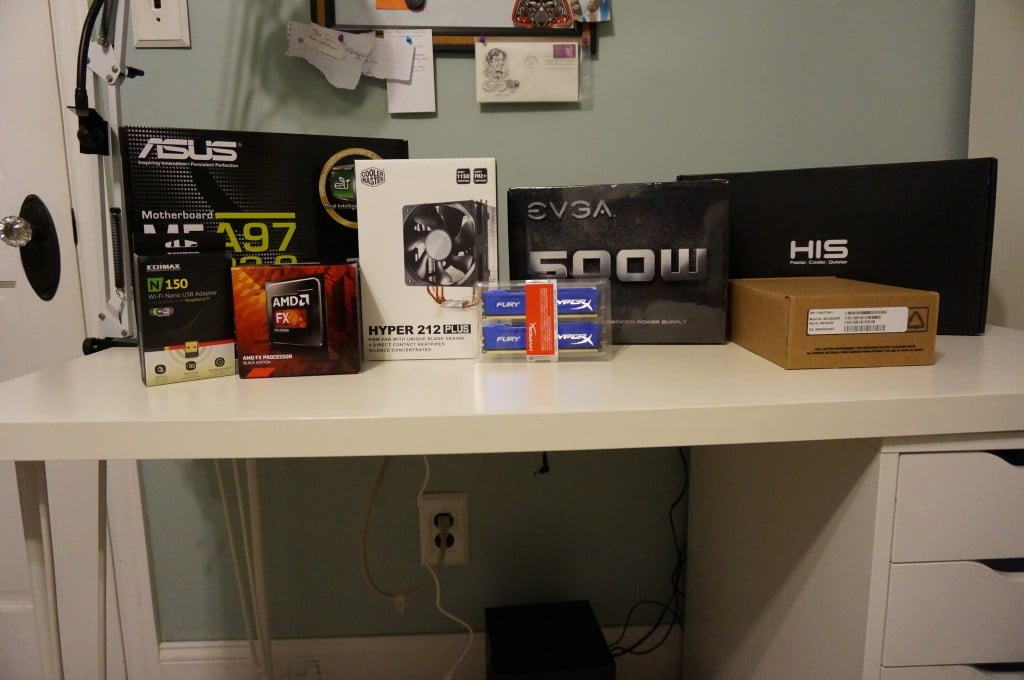 I need to snap some new pictures — these are all from the night I built — but I suppose this is the sort of post I'll keep updating.